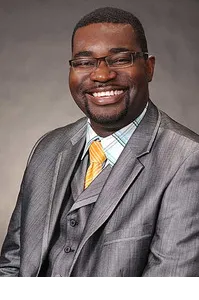 Dr Etienne Shembo
Dr. Etienne Shembo is founder and CEO of Eagle Shembo Dentistry. Originally from the Democratic Republic of the Congo, Dr. Shembo moved to the United States to join family members already residing in Charlotte NC.
Dr. Shembo has been employed in the dental field for more than a decade. He completed his B.A. in Chemistry at the University of North Carolina at Charlotte and received his Doctor in Dental Surgery (DDS) at the University of North Carolina at Chapel Hill.
By completing his four year dental curriculum in only three years, Dr. Shembo was able to spend the last year of his education rotating with dental residents around the Periodontist and Prosthodontics faculty. "My fourth year served as my General Practice Residency (GPR) program. Unlike many of my peers, this opportunity is the reason I was ready to begin practicing dentistry immediately after graduation," says Dr Shembo.
After completing an implant elective course as part of his education, Dr. Shembo was granted the opportunity to participate in the residency "Implant Complications" course. He continues to pursue ongoing education to stay abreast of the latest trends in implant dentistry.
His professionalism, hard work, and clinical skills granted him the 2014 Southeastern Academy of Prosthodontics Award given by Dr Robert Wright, Chair of the Department of Prosthodontics at UNC Chapel School of Dentistry.
In addition to the above achievements, Dr Shembo served as a teaching assistant in the following courses during his fourth year at the University of North Carolina:
Removable Prosthodontics
Conservative Operative Dentistry
Fixed Prosthodontics
Dr. Shembo is a member of ADA (American Dental Association) and NCDS (North Carolina Dental Society) and serves the North Carolina community through his involvement with the NCMOM (North Carolina Mission of Mercy) clinic. Married with three children, Dr Shembo speaks fluent English and French. He is also a minister of the gospel.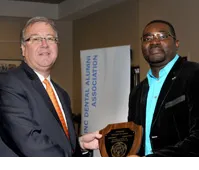 2014 Southeastern Academy of Prosthodontics Award , given by the Chair Department of Prosthodontics at UNC Chapel School of dentistry, Dr Robert Wright